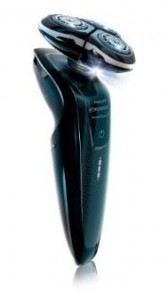 The Philips Norelco 1250x/40 SensoTouch 3D Electric Shaver offers three-dimensional contouring for a better and closer shave. Whether it is short hairs or long ones, this shaver promises to deliver results with its combined channels. It also has an AquaTec seal on its razors to ensure the most comfortable shaving experience, even without shaving cream.
This shaver has a rechargeable lithium-ion battery that allows portable cordless operation. Each charge can make the battery last for up to 17 days. To guarantee a close shave, this product uses a patented Super Lift&Cut dual blade system. The handle also provides an ergonomic grip for better control.
Philips Norelco 1250x/40 SensoTouch 3D Electric Shaver Features
AquaTec seal ensures comfortable shaving, even without shaving cream
SkinGlide shaving surface is gentle on the skin
Easy-to-hold handle with ergonomic group
With standard convenient trimmer
Cordless and compact design
Charges in one hour and can run up to 50 minutes per charge
Includes protective pouch
The Reviews
Out of 139 customer reviews on Amazon.com, 118 were positive. Only 20 users gave this product a rating below 4 out of 5 stars.
Negative reviews raised the following issues:
Pop-up trimmer works poorly – Some consumers complain that the trimmer is almost useless. It is placed in such a way that makes it difficult to see what it is you are trimming.
Quite difficult to clean – A few Amazon customers also report that this Philips Norelco model is quite a challenge when it comes to maintenance. You have to pry open all three blades to give each one a thorough cleaning.
Low battery life – A number of reviewers also received units with batteries that don't seem to last as long as what the manufacturer claims
When it came to positive reviews, here are some praises for the Philips Norelco 1250x/40:
Easy to hold – This model stays true to its claim of having an ergonomic grip. Users report that it fits perfectly in the hand and is comfortable to use.
Quiet Operation – Consumers also appreciate that the Norelco 1250x/40 doesn't make too much noise during use. They could use it at any time of the day without worrying about waking up people who are sleeping close by.
Good close shave – A lot of customers agree that this model gives a good close shave and easily follows the curves of your face.
Gentle and comfortable – A good number of reviewers were also happy to report that there was very little discomfort in using this shaver. The skin adapts quite easily to its blades and one needs only to apply small pressure to get a close shave.
Solid construction – Amazon users were also pleased that the Philips Norelco 1250x/40 looks and feels sturdy. They feel confident about its durability.
Negative reviews can't be avoided when it comes to electric shavers since every man has a different skin type, different facial structure, and even different facial hair type. Even though the Philips Norelco 1250x/40 may be an excellent product, there will still be some people who will find it quite inadequate for their shaving needs.
However, it is interesting to note that there are definitely a lot more positive than negative feedback for this product. On the whole, this shaver sounds like a good buy.