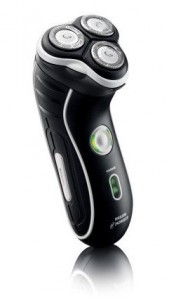 The Philips Norelco 7310XL is a fully washable and rechargeable men's shaver that easily adjusts to the contours of your face and neck, thanks to its patented Reflex Action System. And with its Super Lift and Cut technology, this shaver lifts hairs to cut efficiently but comfortably below skin level.
Its sleek, black grip ensures good control and its comfort shaving heads are gentle to your skin, significantly reducing the risk of nicks and cuts during use. With three individually floating heads, the razor-sharp blades are more precisely aligned to your skin, resulting in a closer and smoother shave.
Philips Norelco 7310XL Men's Shaving System Features
Super Lift and Cut technology (unique two-blade system that lifts and cuts for a closer shave)
Fully washable (water-resistant)
Spring-release, pop-up trimmer
Convenient electronic on/off button
LED power indicator
Includes cleaning brush, protective razor head cap, and a power cord
Full two-year warranty
The Reviews
On retail site Amazon.com, the Philips Norelco 7310XL shaver has gathered 562 customer reviews. Out of all the reviews, 451 customers expressed satisfaction with the product, while 111 gave the product a rating below 4 out of 5 stars.
Among negative reviews, here are a few issues raised by unhappy customers:
Shaving head a bit too bulky – Some customers confess that they would have wanted the 7310XL to have a smaller shaving head. Its size makes it awkward to shave small areas like the upper lip.
Blade speed not as fast as expected – A few consumers also expressed some dismay over the 7310XL's blades. They claim it is significantly slower than most electric shavers that they have used in the past.
Less than impressive design – Some users also observed that this model of Norelco is lightweight, but not in a good way. While other electric shavers are mostly made of metal, some reviewers felt that the 7310XL had a bit too many plastic parts, which in their opinion made this shaver look and feel cheaply made.
However, there were also a lot of good reviews of the Philips Norelco 7310XL. Some good comments from happy customers include the following:
Comfortable to use – Reviewers were appreciative of the 7310XL's gentle shaving action. A lot of users report that this shaver gives a close shave without causing nicks or skin irritation.
Quiet operation – Consumers were also happy that the 7310XL doesn't make much of a noise during use. You can use it at any time of the day without having to worry about waking up people who are sleeping nearby.
Easy to clean – With its fully washable construction, cleaning and maintaining this shaver is as easy as giving it a quick rinse under running water.
Good price – A lot of Amazon customers also agree that the 7310XL gives a very decent performance for its budget-friendly price.
Gives a close shave – Contrary to some reports by less-than-satisfied customers, a bigger number of reviewers claim that the 7310XL gives a smooth and close shave, a gentle one at that too.
The reviews for the Philips Norelco 7310XL are indeed quite mixed. There are some who claim that this shaver has a weak motor and shaving takes longer than usual, while there are others who say that the 7310XL gives good value for your money and provides great results.
All things considered, if you have realistic expectations of the product, then the Philips Norelco 7310XL should be your best friend for quite a while.