Braun has released a new line of electric shavers, labeled as their °CoolTec line. These shavers will keep you cool, literally, and maybe figuratively if you are lucky as well.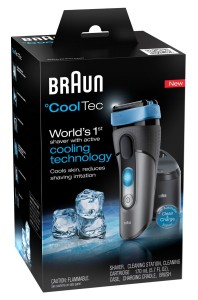 The °CoolTec is a dry shaver that is designed to reduce a lot of the discomfort that people experience with dry shavers by reducing the burning, itching and warmth that goes along with usage of dry shavers. Anybody that has ever experienced those discomforts with their shaver should give this new shaver series a look.
Some of the features that make this a shaver worth looking at:
Active cooling element that cools while shaving
3 stage cutting system that adapts to contours of your face
SensoBlade, which can catch hairs that are growing in different directions
A long-hair trimmer
Waterproof and washable
LED display that shows battery and charging status
Rechargable battery, charges in less than an hour
Overall, this looks like a pretty good shaving system for men and if you are looking for a new electric shaver this is probably worth taking a look at. It hasn't been on the market for a long time yet, but reviews are starting to come in, and feedback is pretty good so far.
Here is a video of somebody un-boxing this shaver.
This should give you a pretty good idea what is in the package.
You can buy this shaver from Amazon or read more user reviews over there.