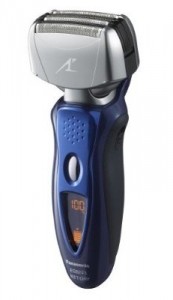 The Panasonic ES8243A Arc IV Electric Shaver has 4 outer blades and 2 inner blades to ensure the closest and smoothest shave. It also has a turbo cleaning mode for easy maintenance and a linear motor that operates at an incredibly fast rate to efficiently shave off even the thickest hair.
Sharp, 30-degree blades are the Panasonic ES8243A's most outstanding weapon against facial hair. With 13,000 rotations per minute, this shaver promises to give you a clean and polished look in just a matter of minutes. Its wet/dry operation is also a big plus. Whether you have time for a long shaving session in the shower or just a quick touch-up, this option lets you choose the best shaving mode.
Panasonic ES8243A Arc IV Features
LCD shows battery charge level and a cleaning reminder
Includes travel case
Turbo cleaning mode
4-blade shaver
Super sharp Nanotech-coated blades that angle at 30 degrees
Batteries can last up to 2 weeks per charge
Linear motor speed of 13,000 RPM
The Reviews
The Panasonic ES8243A Arc IV Shaver has gathered 563 reviews on Amazon.com. Out of all these reviews, 489 were positive. The other 74 Amazon users gave the product a rating below 4 out of 5 stars.
Customers who were not so satisfied with the shaver mentioned the following points:
Shaving takes a little longer than usual – A number of consumers reported that they had to make several passes on the same areas before getting a close shave with the ES8243A.
Does not do well with the neck – Some reviewers also mention that this shaver seems to have some difficulty getting rid of hairs on the neck.
Some shavers went defective after a short time – There were Amazon users who unfortunately had units that suddenly showed defects or stopped working within a few months of use.
On the other hand, there was no shortage of praises for this shaver. Among the good comments from satisfied customers were:
Gentle on the skin – Most users agree that the Arc IV is very easy for the skin to adjust to. There is very minimal discomfort compared to other brands.
Good battery life – Several consumers also noted that the Arc IV charges quite fast and could last for at least ten shaves with each charge.
Easy to clean – Customers also enjoy the quick maintenance for this shaver. Simply rinse it under running water and the shaver has a mechanism that helps itself remove whiskers and other debris from the blades.
Great for travelling – Reviewers who are often on the go appreciate the Arc IV's lightweight and compact size.
Fast, close shave – There seems to be some discrepancy with what reviewers say about this shaver. While there are a good number who claim that this product takes some time in giving you a close shave, there are more users who report that the Arc IV actually gives a great close shave and cuts their shaving time in half.
As expected, there are slightly mixed reviews for this shaver. Everyone's skin and facial make up are different. What might work so well for one might not work so good for another.
But if we look at the numbers, there are definitely a lot more positive reviews than negative ones for the Panasonic ES8243A Arc IV. Overall, it seems like a great product that can give good value for your money.