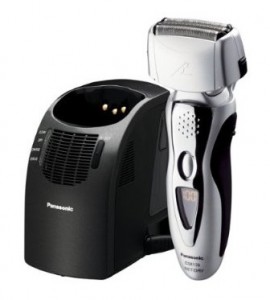 The Panasonic ES8109S Vortex Shaver has a water-infused hygienic solution that removes stubble and debris from the shave and keeps the blades in mint condition. It also has a long-lasting cartridge that promises to provide superior cleaning and keep the blade lubricated. The arced, micro-polished Nanotech blades guarantee a precise and close shave.
This shaver also has an adjustable pivoting head for increased comfort. The Panasonic ES8109S can be used wet or dry and it has a linear motor that significantly lessens friction while shaving. With 13,000 revolutions per minute, this shaver promises to give you a clean and polished look in no time.
Panasonic ES8109S Vortex Electric Shaver Features
Triple-blade design
Pivoting head
Good for both wet and dry shaves
HydraClean feature to keep the shaver in top condition
Rechargeable battery
Box includes travel pouch and adapter
Floating heads follow contours of face and neck
The Reviews
So far, the Panasonic ES8109S Vortex shaver has collected 445 customer reviews on retail site Amazon.com. 372 reviews expressed satisfaction with the product, while the other 73 gave the ES8109S a rating below 4 out of 5 stars.
Here are some issues raised in negative reviews:
Noisy Operation – A number of consumers complained that the Panasonic ES8109S Vortex is quite loud during use, and even louder when it is in cleaning mode.
Cheap Feel – Some customers also mentioned that the shaver doesn't feel like a sturdy product. It doesn't have that solid, heavy feel that other electric shavers have.
Not as good on the neck – Some reviewers also mentioned that while the Panasonic ES8109S works great on the face, it seems to have some difficulty getting rid of hairs on the neck.
When it came to positive reviews, here are what satisfied customers had to say:
Ergonomic Grip – Most users agree that the shape of the shaver fits very nicely with the contour of one's hands, providing better control and a more comfortable shaving experience.
Gentle on the skin – A lot of consumers were also pleased with the very minimal discomfort involved in using this product. A lot of Amazon users observed that it didn't take very long to get used to this shaver.
Good, clean shave – A large number of customers were happy to note that the Panasonic ES8109S is true to its word. It really delivers a smooth and close shave.
Majority of Amazon users are pleased with the Panasonic ES8109S and with good reason. For a decent price, it offers great performance. While it is quite noisy, this shaver delivers when it comes to providing a smooth and clean shave. There were some users who mentioned that the ES8109S doesn't seem to work so well with neck hairs, but we have to consider that each man's skin and facial hair is different. It wouldn't be fair to expect one shaver to work flawlessly on everyone.
There are bound to be some people who will find the ES8109S a bit wanting. But overall, there are noticeably a lot more reviewers who gave this shaver a good rating. The ES8109S definitely sounds like a good buy.