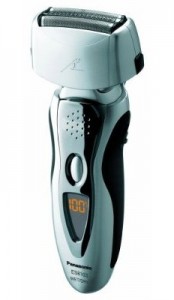 The Panasonic ES8103S Pro-Curve has a Pivot Action Shaving System that provides maximum comfort. With its linear motor, friction is greatly reduced, resulting in a gentler shave without compromising on precision and efficiency. Whether you shave wet or dry, this product guarantees the same satisfying results.
This shaver also makes use of Nano Technology to provide you with the sharpest blades for the most accurate shaving. The blades follow the contours of your face and neck to give you a smooth, close shave. A standard pop-up trimmer is great for taming sideburns or for shaping your moustache.
Panasonic ES8103S Pro-Curve Electric Shaver Features
Illuminated LCD to show battery status, charge indicator, and cleaning reminder
Turbo Cleaning Mode
Good for both wet or dry shaving
Silver color
Nano Technology (the sharpest blades with a 30-degree angle)
Pivot Action Shaving System that follows the contours of your face and neck
Linear motor for a frictionless shave
The Reviews
Out of 394 reviews on Amazon.com, an impressive 344 users felt satisfied with the product. Only 50 reviewers gave the Panasonic ES8103S a rating below 4 out of 5 stars.
Customers who were not quite happy with the product had the following things to say:
Construction not very impressive – Some Amazon users weren't too happy that this model is made mostly of plastic parts. This makes them question the product's durability.
Less powerful motor – Reviewers who were longtime users of Panasonic shavers were also disappointed to report that the ES8103S seems to have a weaker motor compared to those of previous models.
Quite noisy – Some users also complain that this shaver makes quite a lot of noise during use, which can get quite annoying.
Of course, there were also plenty of praises for this shaver. Here are some good comments from satisfied consumers:
Close Shave – While some users have issues with the motor power compared to older models, a large number of users report that the ES8103S gives a good close shave.
Gentle on the skin – A lot of users also report less discomfort and irritation when using this shaver compared to other brands.
Good battery life – Most reviewers were also happy to report that each charge on the Panasonic ES8103S can last a relatively long time, with no 'slow-down' in performance as the battery runs low.
Looking at the numbers, the Panasonic ES8103S has attracted quite an impressive number of positive reviews. The not-so-positive ones do raise some valid points, but judging from the reviews as a whole, it seems more reviewers are fans of this electric shaver.
One of its best features is apparently its friction-reducing linear motor. While most electric shavers take a few days (or even a few weeks) to get used to, a good number of Amazon reviewers report that they felt comfortable with this shaver since day one. With such praises from so many customers, it's safe to say that the Panasonic ES8103S is a product worth trying.