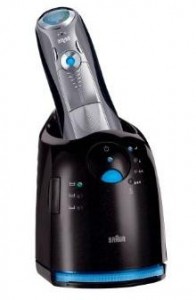 The Braun Series 7 – 790cc Pulsonic Shaver boasts of an innovative pulsonic technology that gives off 10,000 micro vibrations with every stroke. With 3 personalization modes, you can really customize your shaving experience and make it work for your skin's unique needs.
This electric shaver also has an Activelift feature that takes care of flat-lying hair to help you deal with problem areas. Its OptiFoil system cuts hair deeper than most shavers to give you that smooth and clean look. To top it all off, the Braun Pulsonic also has a fully flexible shaving system that cleverly adjusts to the contours of your face and neck.
Braun Series 7 – 790cc Pulsonic Shaver System Features
Triple Action Cutting System
Fully Washable
Clean & Renew System (Clean, charge, and lubricate your shaver at the touch of a button)
LCD display
1 hour charging time
50 minutes of use per charge
Innovative Pulsonic Technology (10,000 micro vibrations with every stroke)
The Reviews
The Braun Series 7 – 790cc Pulsonic Shaver has garnered 194 reviews on Amazon.com. Out of these reviews, 164 consumers gave high ratings, while only 30 users gave it a rating below 4 out of 5 stars.
When it came to negative feedback, here are some complaints raised by Amazon users:
Grip not very ergonomic – Some users claim that while the grip on this shaver looks sleek, it is actually quite hard to make a firm grasp on the shaver.
Bulky charger and cleaning base – A few consumers also mentioned that the charger is bulkier than what they would have wanted. The cleaning base of the shaver is also quite big, which takes up quite a lot of space on your countertop.
Not as impressive as older models – Customers who were longtime Braun users report that this model seems like a few steps backward for the manufacturer. A common issue was the shaver's build, which some users thought was quite cheap since it is made of more plastic than metal parts.
On the other side of the fence, there were happy customers who had the following praises for the Braun 790cc-4 Pulsonic Shaver:
Smooth Shave – Reviewers who were happy with the Braun 790cc-4 report that it gives a smooth shave, with no nicks and cuts.
Quieter than previous models – Consumers who have used Braun shavers in the past also noted that this model is easier on the ears.
Variable setting – Customers also appreciate the different shaving modes on this product, which allows them to vary the power and intensity of the shave, depending on their skin type and/or the amount of hair they have to get rid of.
As expected with most electric shavers, the Braun Series 7 – 790cc has collected slightly mixed reviews. It apparently has more fans than critics though.
While some longtime users of Braun complain that this model doesn't seem as impressive as older models, most reviewers agree that this shaver does what it's supposed to do—give a smooth shave with very minimum discomfort.